Offering the highest quality products with the best possible service, combined with the most competitive prices, to give our customers an edge in today's competitive market place.
Although we supply a vast range of foodservice solutions, our first love has always been continental deli meats.
Charcuterie is a French word dating back to the 15th century meaning cooked meat ("Chair" meaning meat and "Cuit" meaning cooked). The culinary art of preparing meat products such as ham, salami, bacon, sausages and pate was born of necessity – it is how meats were preserved before refrigeration.
Delicatessen is a German word, which first appeared in England around 1889 meaning 'delicious thing to eat'. Today the word is shortened to Deli and used to describe ranges of prepared meats, pates, cheeses and salads. On the high street we refer to a Deli when we think of a Fine Food Shop or Counter.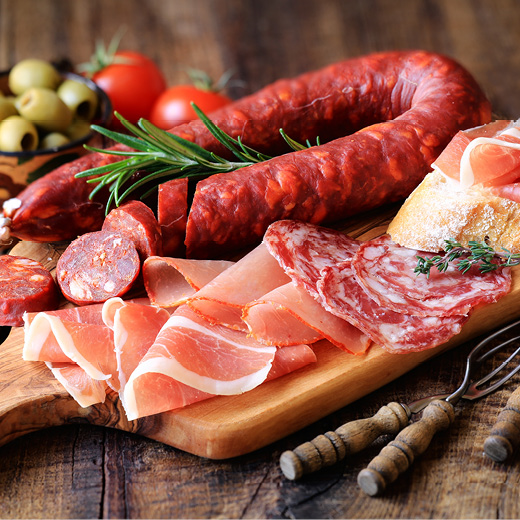 Spanish Charcuterie
All over Spain your taste buds will be seduced by Chorizo, a fiery coarse sausage owing its distinctive colour and flavour to paprika, or the pure pork Fuet, salted and air-dried relying on the natural meat enzymes to cure it. No one should travel to Spain and not taste the mighty Serrano Ham or the sweet Iberico de Bellota produced from pigs foraging for acorns in the Oak forests of Extramadura.
It has been suggested that the Spanish were the inventors of 'Fast Food' as what is more quintessentially Spanish than a glass of Rioja and Tapas, a small snack, traditionally a simple slice of chorizo or a Pinchito (meat on a stick) however in the cities are now elaborate things of beauty.
Spanish Charcuterie offers an easy yet tasty way to introduce grazing boards and mini plates whether at home or in your food business.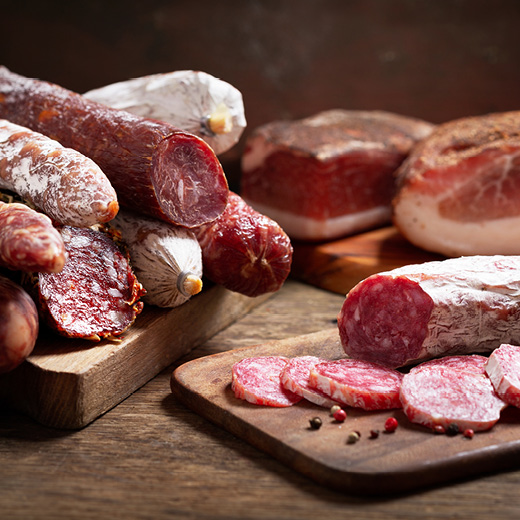 Italian Charcuterie
Italians are famous for their love of art, family and food which is successfully exported all over the world. From Emelia Romagna the region surrounding the city of Parma the air is pure and just the right temperature for drying the renowned Parma Ham, having only four ingredients: pork, salt, air and time. To be eligible for the Ducal Crown the pigs must have been reared, slaughtered, cured and dried in the Parma region.
Italian Salamis are made from pure pork and depending on whether they are from the North (Milano Salami) or the South (Napoli Salami) sometimes made with garlic or black peppercorns.
The most famous Italian sausage is the pepperoni, which probably derived from the Cacciatore (Italian spiced Hunting Sausage) and is now synonymous with Pizza. A product currently capturing the imaginations of those in the know is 'Nduja, a spicy spreading sausage perfect for adding heat to hearty stews, posh pizzas and summer salads.
Today Italian meats are supplied both as whole pieces or pre-sliced in retail and bulk catering packs and lend themselves to endless possibilities in the kitchen.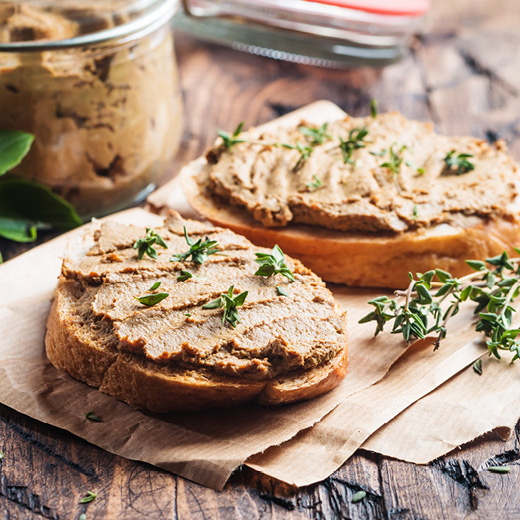 Belgian Paté
Belgium is one of the smaller European countries but is a large exporter of food products to the United Kingdom.
The traditional favourites are Brussels (Smooth) Pate and Ardennes (Coarse) Pate however over the years our range has been expanded to include Duck Liver Mousse and Chicken Liver Pate which are now household staples.
Holidays always draw a crowd for entertaining and we have exciting Christmas and Easter ranges consisting of luxurious flavours (Sauterne, Roquefort, Armagnac and Brandy all make appearances) and impactful presentation dishes – including skillets and even a champagne bottle. As always, our range includes a solution for single serve portions – delicate ovals of pate topped with a complementary gelatin or chutney, all the way to large 2kg loaves, ceramic dishes and tureens.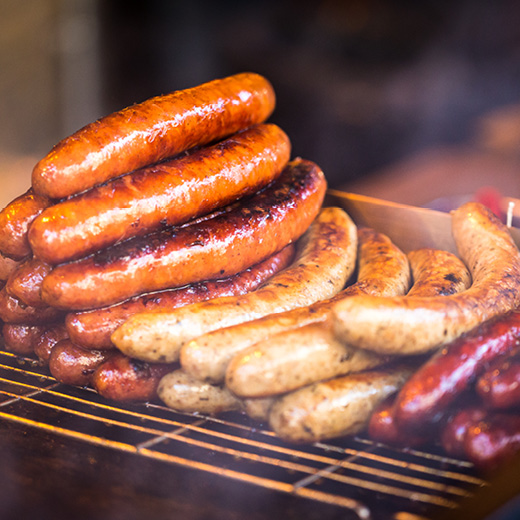 German delicatessen
Germany is very well known as a producer of Hams, Salamis and Sausages. The Westphalian Ham from the Northern regions is delicately salted and smoked in contrast to the heavily smoked Hams of the Black Forest in the South of Germany. Either served thinly sliced with cream cheese on Rye Bread is delicious – the only debates you'll have are whether to include a dill pickle or not.
German Salamis are nearly always produced from pork with a little beef and slightly smoked over Beechwood. Variations include herbs, crushed black pepper or paprika coatings.
German sausages come in a wide range from Beirwurst, aptly named because it is nearly always eaten as a cold sliced meat when drinking beer, famous grilling sausages such as Bratwurst (white sausage), originally veal but now usually made from pork and frankfurters, made from either beef or pork and smoked – the original Hot Dog. These grilling sausages are sold on every street corner in Germany as a regular fast food and no Christmas market or country show is complete without a stall tempting us with these delicious treats.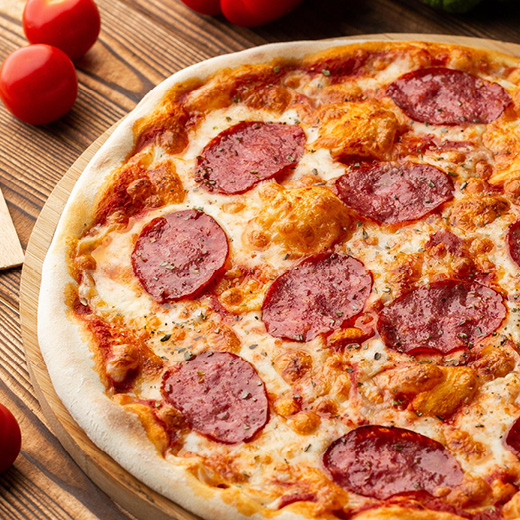 Pizza Toppings
Pizza is sold in nearly every country of the world, and arguably one the most popular foods on the planet. The world's first pizzeria opened in 1830 in Naples, Italy; the Pizzeria Brandi, and still exists today. The Margherita pizza was invented there in 1889, in honour of Margarita of Savoy the queen of Italy. It was made of mozzarella, basil and tomato sauce to reflect the colours of the Italian flag.
Since this date we have had an avalanche of innovation in pizza toppings. From staples such as ham, pepperoni, salami, meatballs, spicy beef and chicken to more innovative toppings such as Italian sausage crumb, Merguez sausage, lamb stamps and sliced hot dogs.
Our state-of-the-art factory ensures consistent, quality, IQF toppings are delivered direct to your door and includes a market leading and comprehensive Halal certified brand.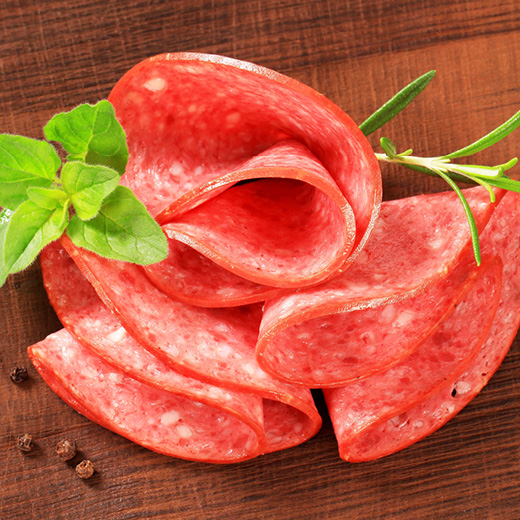 Danish Delicatessen
Danish prepared meats and salamis are influenced by the seafaring history of the Danish people when salting and pickling became second nature in order to preserve their meats.
Danish Salami is made the same way as it was centuries ago, using beetroot juice to achieve its distinctive red colouring, and up to the 1970's was probably the best-known salami in the UK.
Accompanying the traditional Salami and Pepperoni range is a vast array of premium cooked and smoked meats including Pork Loins and Rare Roast Beef.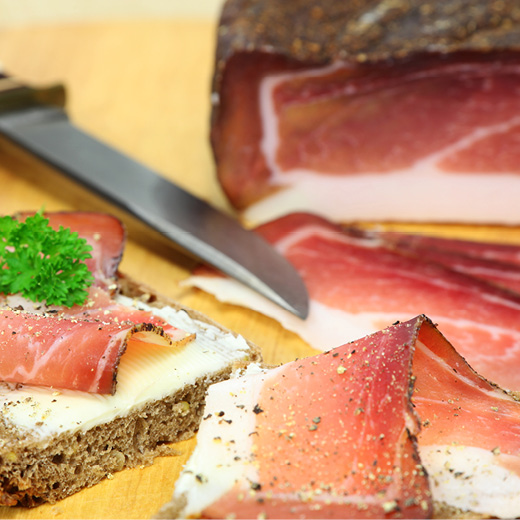 Austrian Delicatessen
Austrian hams and sausages are many and varied – taking influence from the seven countries that border Austria.
The Protected Designation of Origin Tyrolean Ham is made from the finest pork reared on the small Alpine farms, dry-cured and heavily smoked and lends a provenance and gravitas to any menu serving discerning customers.
The robust Berner, a sausage made from fresh pork and wrapped in smoked spicy bacon is popular with skiers throughout the winter season and Kasewurst, a hot smoked and cured slicing sausage flavoured with caraway and diced Emmental cheese, is delicious sliced very thin in a sandwich with mustard. Both bring delight to travellers when they can be enjoyed back home.
Want to work with us?
We want to work with you too. Click the link below to get in touch.